Talent Division
Meridian's Talent division brings its strong reputation for proactive representation and excellent career management to the performers community.
TOVAH SMALL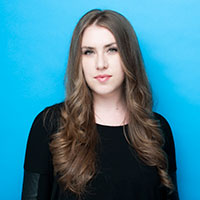 Raised in a household of performers, Tovah Small was immersed into the world of theatre, film, and television at a very early age. She began her career as a casting associate in 2009 after attending Queens University. Her keen eye for talent was honed working with Toronto's top Casting Directors on such series as Suits (USA Network), Flashpoint (CTV/CBS/ION), and Hannibal (NBC), and feature films including Cosmopolis (Dir. David Cronenberg), Bang Bang Baby (Dir. Jeffery St. Jules) and Regression (Dir. Alejandro Amenábar). After five years in casting, Tovah further established herself at The Characters Talent Agency, nurturing their many award-winning, internationally renowned performers. She is thrilled to be joining the exceptional team at Meridian Artists.
Nancy lefeaver
Nancy LeFeaver has spent most of her profession life as an agent for many of Canada's leading film and theatre artists. She began her career as an agent at Oscars, Abrams, Zimel and later ran her own successful agency, LeFeaver Talent Management for over fifteen years. Nancy is very proud of the talented actors she has represented and their many accomplishments. She is thrilled to continue her career as an agent with the terrific team at Meridian Artists and looks forward to continued success.
colleen loucks
Colleen started her career as an actress attending Ryerson Theatre School.She toured with various theatre companies throughout Canada, Eastern United States and up into the Artic Circle. She also appeared in T.V Film and commercials. Her life took a turn and she wasn't able to return to acting so she ran one of the first breakdown services for Casting Directors called Breakdowns Unlimited. She was approached to join the agency Creative Trust as a talent agent and after few years struck out on her own to form The Core Group Talent and Literary Agency with a number of agents from 1992-2007. In 2007 she joined with Nancy at Lefeavertalent and now a new chapter with Meridian Artists begins.
michele charlton
Michele has recently joined the team at Meridian Artists filling the role of Talent Assistant. Originally hailing from Oakville Ontario, Michele holds a degree in Drama with a minor in Film and Media from the Dan School of Drama and Music at Queen's University. During her time at Queen's, Michele served as the President for Queen's Musical Theatre, and spent a year as the Campus Activities Commissioner for the Alma Mater Society. Prior to Meridian, Michele has worked heavily in event management and worked as the Associate Producer for Volcano Theatre and Peggy Baker Dance Projects.